Cultivate
Evolving beyond High Performance
Cultivate is a choice.
It is the context in which caring leaders and teammates can enable people to be well at work and overcome the epidemic of stress and mental health issues. Cultivate allows for the outcome of high performance but also the outcomes of rest, well-being, learning and failure. It is complex, multi-dimensional, courageous, authentic, human, and involves the heart.
Cultivate reflects the diversity of the human experience, accepting that struggle is part of our experience and embracing it rather than pushing it down, gritting through or pretending it's not happening.
It is a call to action for those who want a different way.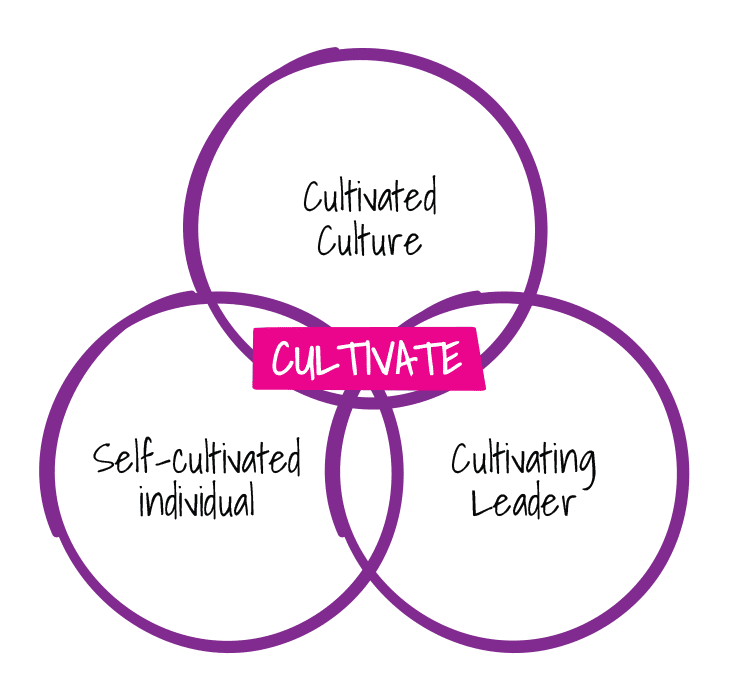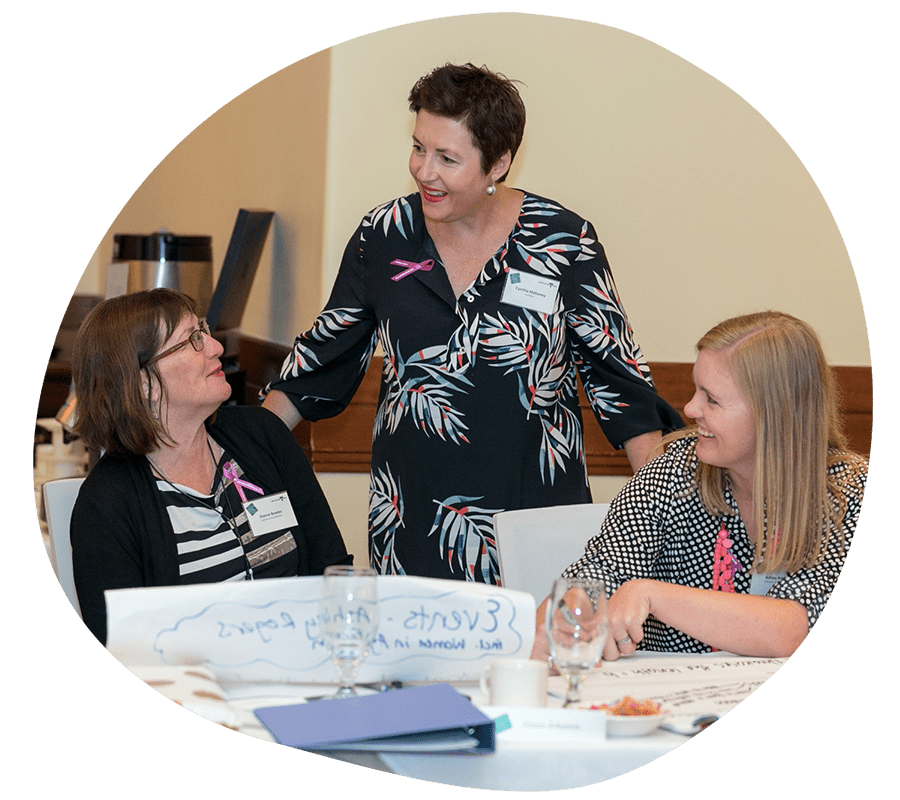 "Cynthia's training is now an integral part of our culture and the learnings are not a quick fix, but are helping to grow and develop our organisation to be a better version of itself in a way that we could never have imagined."
– 
Tristan Ellett, Customer Relationship Director, BigFish Technology
The Cultivate Model
The Cultivate model shows what it means to bring a cultivating process to our workplaces. We develop individuals with the skills, knowledge, tools and motivation to look after and cultivate themselves. We advance leaders who know how to look after themselves and constantly look for ways to cultivate their people. We establish cultivating cultures that encourage and support well-being and human beings, and where burnout is as harmful and old-school as smoking or not wearing seatbelts.
Through personalised and group coaching, keynote speaking and facilitated workshops and programs, Cynthia Mahoney works with the Cultivate model to help leaders, organisations, industry and community groups achieve high performance through well-being.
Cultivating Leaders build people up and encourage them to grow and develop. They are courageous, authentic and human and create cultures where people can be well and do well at work.
Cultivating You
Cynthia supports the growth and development of a limited number of clients through one-on-one coaching and mentoring. In this process, she partners with you in the important work of asking powerful questions to provoke reflection and unlock new insights, perspectives and learnings that lie within. She provides the space and uses coaching processes for you to dream big about your goals, create new ideas about what's possible and identify strategies to implement. She is your accountability buddy, sharing experiences and tools to support you to do the work, take action and create change.
Cultivating Teams
Cynthia helps teams cultivate trust and connection, undertake self-reflection, have honest conversations and work together effectively and sustainably. Her tailored group programs include half-day workshops, monthly masterclasses or a 12-month program involving teams across your whole organisation.
Cultivating Leaders
Working with leadership teams, individually and as a collective, Cynthia guides leaders to understand how they show up as leaders in shaping organisational culture and leading their teams. She provides space, including the latest leadership research, and utilises facilitation processes that enable them to have conversations they need to have to work together effectively and take their leadership to the next level.
Cultivating Communities
Cynthia regularly works with local and state government organisations, as well as industry bodies and community groups, to make her programs accessible to local communities and bring people together to cultivate deeper connections and shared learning around key topics of interest.
Cultivate Book
How do leaders thrive in tomorrow's world?
For too long high performance has been the default strategy for many leaders and organisations. This has led to staff turnover, burnout and a mental health epidemic, especially in rural areas.
There is a smarter way to lead.
Cultivate shares a compelling science-based case about how leaders can support themselves and their people to do well and be well at work. Sustainable high performance can be achieved by leading with a human-centric approach, that puts well-being at the centre. 
Plus $9.00 flat rate postage. Price includes GST.
A note from the author
Cultivate is a book specially written for rural, regional and remote leaders and focuses on three things:
How to look after yourself as a leader (Cultivate yourself)
How to be a great leader for your team (Being a Cultivating Leader)
How to create cultures that reflect the way people want to live and work today (Creating Cultivated Cultures).
It's packed with the latest research from neuroscience and positive psychology that show happier people perform better, why burnout cultures are so prevalent and the type of leadership that is required for leaders and their people to flourish. It also contains lots of stories from my 25+ years of experience of working with rural people, communities and industries as a facilitator, coach, speaker and mentor.
My hope is that it will make a positive difference to rural leaders and be a valuable resource for their leadership toolkit. I'd also love it to create more conversations about the leadership styles needed for today's world and why pursuing high performance as a strategy is counterproductive, leading to mental health and burnout issues.